Welcome to the February 2023 edition of This Month in SWA 🎉
ABOUT THE ROUNDUP
The roundup is traditionally published on the last Monday of each month - just ahead of the Azure Static Web Apps Community Standup held on the last Wednesday of each month. Catch up on all the news and announcements in one friendly blog post, then join the livestream for interactive discussions, demos and more.
And don't forget to contribute your updates for inclusion in the next issue!
---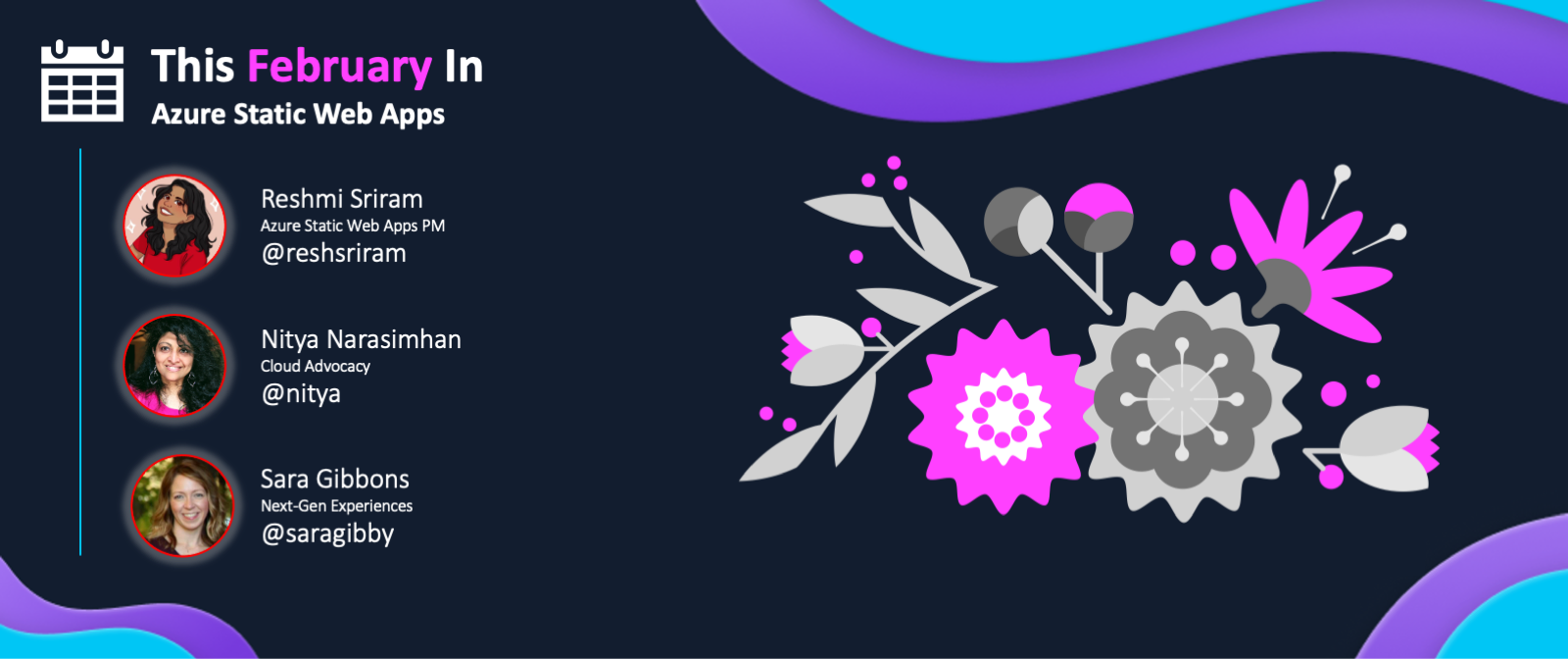 ---
Product News​
This section covers recent news or announcements from the product team. Read on to learn the latest news from the world of Azure Static Web Apps!
---
Dev Resources​
This section covers content, events and code samples from Microsoft authors. Check them out for relevant learning resources and best practices.
---
Community Buzz​
AUTHORED BY DEVS LIKE YOU!
This section highlights content from our amazing developer community - submitted directly, or discovered via the Azure Static Web Apps tag in sites like Tech Community and dev.to.
---
Upcoming Events​
This section highlights in-person or online events that are likely to feature Azure Static Web Apps content or developer conversations - links to CFPs or registration links are welcome!
---
Did You Know?​
Each month, we hope to turn the spotlight on one key resource or person that is worth knowing about, in the context of Azure Static Web Apps.
🌟 SPOTLIGHT ON: SVELTEKIT ADAPTER FOR SWA
Want hands-on experience with Azure SWA adapter + SvelteKit? Check out Creating a SvelteKit app for Azure Static Web Apps - a 4-part series from a member of the Svelte team, that covers end-to-end flow of code from the local machine to the Azure SWA deployment shown below.
🚨 Note: The tutorial is from Nov 2022, pre-release of SvelteKit 1.0. If you try this out and have updates or learnings, do share this with us as a contribution to the next roundup!
---
🚨 | Call For Content​
Next Roundup: Mar 20, 2023
Submissions welcome till Mar 15, 2023.
Did you author an article, create a SWA application or sample?
Are you organizing an event with a SWA-related session?
Are you a student who just created your first SWA app or blog post?
Submit the details using this custom issue as soon as possible. We can't wait to share your contributions!