It's here!! Our November roundup of This Month in SWA 🎉
ABOUT THE ROUNDUP
We publish a roundup of Azure Static Web Apps product news, announcements and content updates on the last Wednesday of each month. Catch up on all the updates in one friendly post - and don't forget to contribute your updates for inclusion in the next issue!
---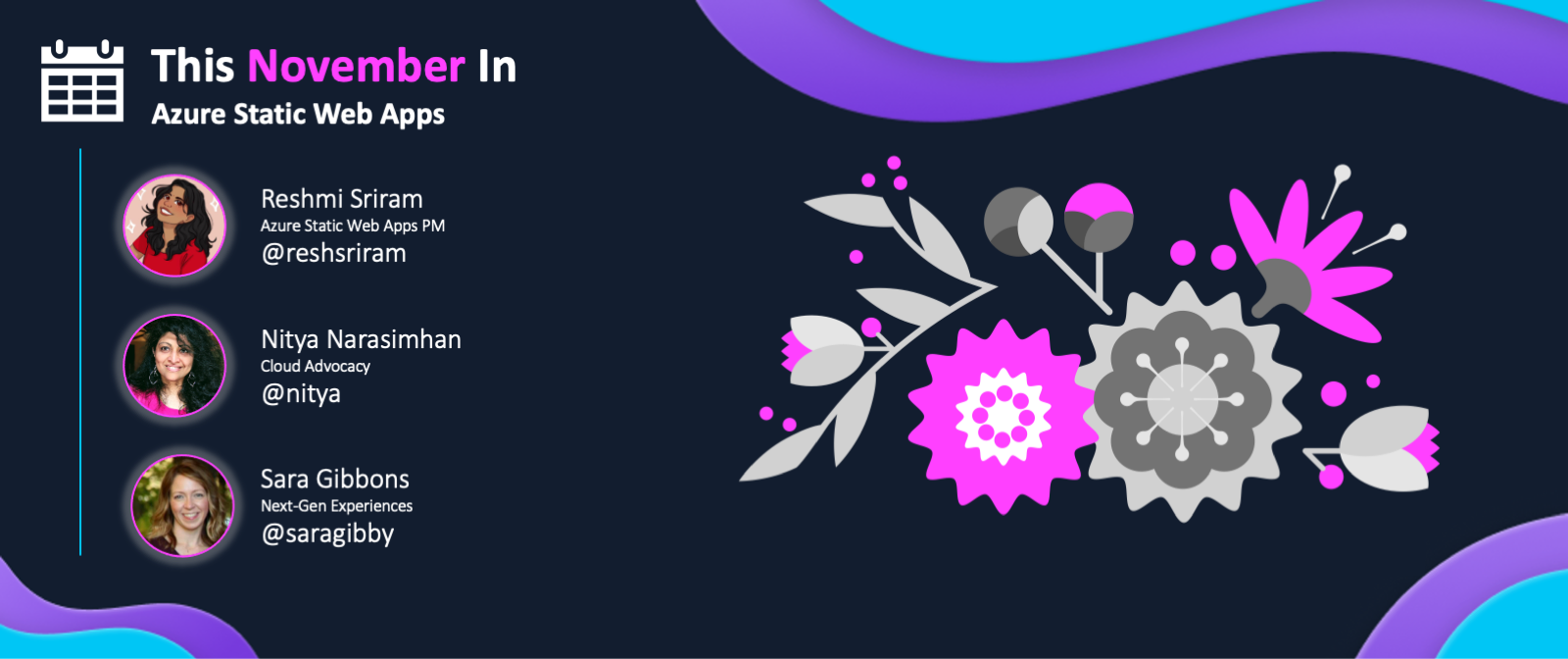 ---
Product News​
This section covers recent news or announcements from the product team. Read on to learn the latest news from the world of Azure Static Web Apps!
---
Dev Resources​
This section covers content, events and code samples from Microsoft authors. Check them out for relevant learning resources and best practices.
---
Community Buzz​
AUTHORED BY DEVS LIKE YOU!
This section highlights content from our amazing developer community - submitted directly, or published to the relevant tag in sites like Tech Community and dev.to.
---
2022 Event Highlights​
As we wrap up 2022 and plan for 2023, here are some highlighted SWA event sessions not to be missed!
Have an upcoming event you'd like to highlight? Share it with us so we can include it in our next roundup!
---
Did You Know?​
Each month, we hope to turn the spotlight on one key resource or person that is worth knowing about, in the context of Azure Static Web Apps.
🌟 SPOTLIGHT ON: Awesome AZD Templates
The Azure Developer CLI (AZD) is an open-source tool that accelerates the time it takes for you to get started on Azure - with a set of developer-friendly commands that map to key stages in your workflow (code, build, deploy, monitor).
Not only that, AZD uses extensible application templates (Awesome AZD Templates) that include everything you need to get up and running on Azure for multiple scenarios. Each covering an end-to-end scenario that goes far beyond "Hello World!".
Checkout the Static Web App enabled Awesome AZD Templates we've created:
As we work to build out Static Web App enabled Awesome AZD Templates, we'd love to hear from you! Share your template idea, or if you have a template created you'd like to add to out list, share your template with us!
---
🚨 | Call For Content​
Next Roundup: Dec 28, 2022
Submissions welcome till Dec 21, 2022.
Did you author an article, create a SWA application or sample?
Are you organizing an event with a SWA-related session?
Are you a student who just created your first SWA app or blog post?
Submit the details using this custom issue as soon as possible. We can't wait to share your contributions!